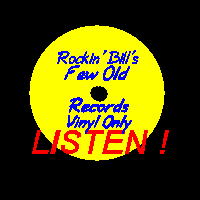 Condition:

EX / na

[Media / Cover]
Label:
Coral 62033 Dj
Genre: Rockabilly/Early R&R
Release Country: US
Release Date: 1958
Original, SCARCE blue label DJ issue

Pop #37 Mambo beat R&R b/w fine Rockabilly ballad

Song sample clip

Overall or 'Wax Lab. Snd' or 'Disc / Slv' if any : NM EX-/+ NM
Glossy NEAR MINT record but has a little write and glue residue from removed sticker a-side, otherwise beautiful label, plays and sounds as perfect as a 50 years old wax could do in its youngness !
Seller Reference: FLD-ST06146



1

copy

in stock

.
Add to Wish List
Add to Watch List
Continue Shopping